The Ion Generator is an effective and inexpensive means for disinfecting potable water distribution systems like hospitals.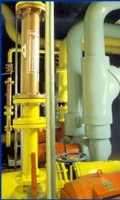 Descal-A-Matic® provides water treatment technology that keeps equipment clean. With Descal-A-Matic®, performance and efficiency are improved, and the high cost of pollution cleanup is eliminated.
For more than 20 years, Descal-A-Matic® has provided environmentally sound solutions to water treatment problems in a wide range of installations throughout industry and government.
Descal-A-Matic® Fluid Conditioners eliminate scale build-up and corrosion in pipes and tubes without chemical additives. They provide a simple and economic solution to pipe and scaling in cooling towers, boilers, heat exchangers, condensers, washing systems, spray nozzles, and a long list of other equipment.
Non-toxic-by-products well below EPA's drinking water standards.

Stable and easily measured disinfectant residual.

Unaffected by higher temperatures.

Eliminates or reduces the purchase, storage and handling of toxic chemicals.

Easy installation and maintenance.
When used in conjunction with Descal-A-Matic's® Magnetic Water Conditioners that control scale and corrosion, they provide a total non-chemical approach for industrial water treatment.
Visit the webpage for more information (click logo below):