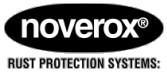 Noverox rust convertor has been tested and proven effective in the following industries: Automotive, Construction, Earthmoving, Marine, Milling, Mining, Transport Infact all types of industries involved with steel and cast iron components Noverox is also used extensively and successfully in the DIY market.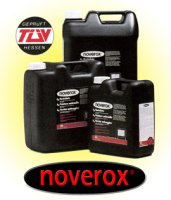 Noverox Anti Corrosion paint converts rust into a stable black protective layer sealing out moisture and oxygen preventing further rust from forming. Noverox protects and primes in a one-step operation.
Noverox is a completely environmentally safe treatment. Noverox contains no toxic substances such as lead, zinc chromate, phosphoric acid or any carcinogenic substances. Noverox does not attack existing coats of paint or zinc plating.
Noverox Rust convertor and primer provides
Safe and effective rust control without time consuming preparation.
Noverox reacts directly with rust - no need to grind back to bright metal
Simply brush off loose or flaking rust - wash away dust, dirt & salt reisdues before applying Noverox straight onto rusted surfaces. Can be applied to damp surfaces.
Two printable one page Noverox documents are at this link:
Noverox used on petroleum tanks
Non poluting, non toxic Noverox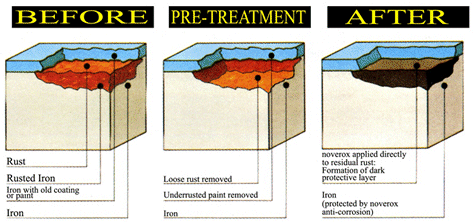 Rusted steel or cast iron structures or equipment treated with Noverox are protected against further rust forming. Rust no longer has any chance of progression, subsurface rusting is stopped and will not break through the finishing coat and continue to destroy steel and iron by corrosion.
Noverox can be applied in any way - rolling, brushing or spraying

Non toxic - Easy to apply

The long term effectiveness of Noverox has been verified by world renowned testing institutes: TUV Hessen, Bureau Veritas