Metalock Repairs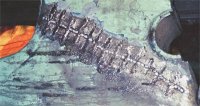 Metalock repair to stainless steel wire weaving machine
We service all facets of the industry including:
Marine, Petroleum, Mining, Transport, Earthmoving, Sugar Milling, Manufacturing, Logging - in fact any industry that has castings.
Some of the castings we repair include:
Transmission housings, Gearcasings, Mill Beds, Bearing Housings, Engine Blocks, Large Diesel Cylinder Heads, Pump Casings, Flywheels, Compressor Bodies, Presses, Guillotines.
Metalock the metal stitching process effects a permanent repair.
Metalock is a cold precise mechanical engineering repair process where the strength of the repair can be accurately calculated.
No heat is required therefore no induced stresses or distortions of the parent metal occurs.
Minimal dismantling and in many instances post machining is not required reducing expensive downtime.
Repairs can be carried out onsite or in our workshop - 24 hour service.
The images below reflect just some of the cold casting repairs undertaken by Metalock Engineering Services Australia. Our repairs cover a wide range of industries - contact us for further information.
Click on the thumbnail images to see a screen sized image.


Before and After images of cold casting repairs

Caterpillar Transmission Housing

Before

After

Cat 14- 16G Transmission Housing repaired using Metalock

Before

After

Caterpillar 3512 Engine Block repaired using the Metalock process

Before

After

Sugar Industry repair of top bearing section completely broken off - repaired using Metalock and Masterlocks

After

Large gear casing repaired for Amcor Cartonboard - entire section replaced and repaired using Metalock

After

Gladstone Power Station - pump base for main sea water circulating pump

Before

After

Sugar Mill - main mill bed.

Section of existing and section from scrapped beds were premachined and joined using the Metalock process.

Before

After

Large diesel engine damage by broken con rod.

Damaged section machined out - new section cast and Metalocked into position.

Before

After